Chat monitor using IMMonitor
It's really important for companies to monitor employees instant messaging to prevent leaking of corporations business secret, and increase working productivity.
It's also important for parents to monitor kids chat activities to protect them.
IMMonitor is designed to silently monitor chat content, monitor email transfer and web surfing activities in local network without installing any programs in client computers.
Here I give a short description of how to using IMMonitor to monitor chat in your network:
To install IMMonitor, please read How to install and deploy IMMonitor first.
Login into IMMonitor.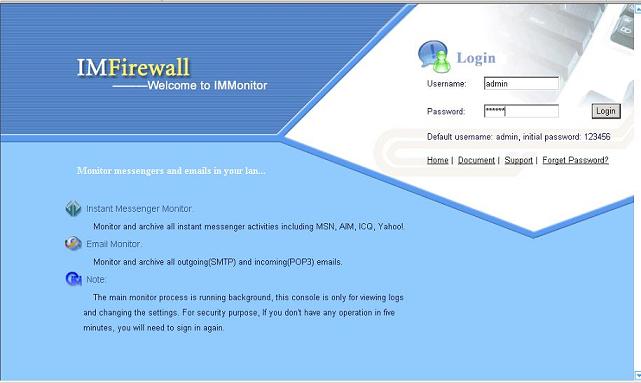 Login into IMMonitor using username admin, initial password 123456.
After login, you will be able to see all online computers detected. If you can not see other computers in your network. Your deployment of IMMonitor is possibly to be incorrect. Please check "How to deploy IMMonitor" chapter in "Getting started with IMMonitor".
Online computers list: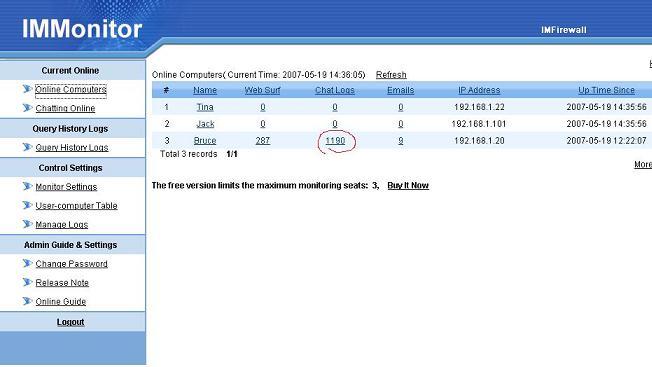 The figures under "Chat logs" will show monitored chat message number. Click the figure you will be able to see all messenger id which have been used in this computer.
Click a messenger id and choose a date, you may see all chat history logs and chat content in that day of this id.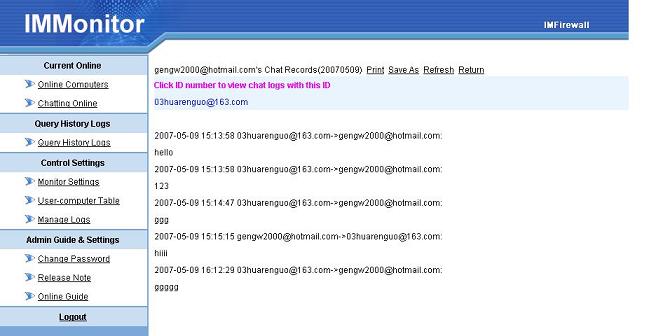 Notice:
Incorrect deployment of IMMonitor will no be able to monitor others computers, it is important to read "Gettting started with IMMonitor" first.