Silently monitoring using ARP Spoof
Most monitoring softwares require a broadcasted hub or a port mirror switch, or the monitoring program need to be installed at the proxy server.
If you don't want to buy additional device and change your network topology, IMMonitor provides an arp-spoof tool to help you. However, we recommend you use a port mirror switch for long term use because arp-spoof will has some shortcomings:
Always do not spoof more than 30 computers and keep your computer stable. If your computer hangs or power off when spoofing, the computers being spoofed will lose connections.
Run ARP Spoof from IMMonitor
You need to restart your computer for the first time running arp-spoof. After restart, run arp-spoof again, choose your adaptor and set the mode to "Full duplex", check the computers you want to spoof and click "Start ARP Spoof".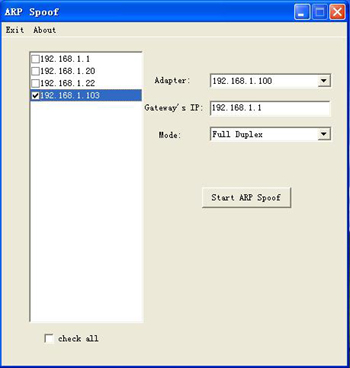 Open IMMonitor console with ARPSpoof running, set "Mode" to "By IP Address" in "Monitor settings". Then open "Online Computers" of IMMonitor, you will able to monitor other computers.
IMMonitor Features
Chat monitor: MSN chat monitor, AIM chat monitor, Yahoo chat monitor, ICQ chat monitor, QQ chat monitor, live messenger monitor.
Email Monitor: monitor emails, monitor email content, monitor company email, monitor pop3 email, monior smtp email, monitor incoming and outgoing emails.