To monitor internet activities of all computers in your network, the WFilter computer shall be connected to a mirroring port of your switch, or install WFilter into a gateway computer.
Some inexperienced users might don't know whether a switch can support port mirroring. Hence we list how to check whether port mirroring is supported by your switch.
First, check the features list of your switch.
"Port mirroring" is also called as "port SPAN", "port monitoring". A port mirroring switch is usually called "a manageable switch" or "managed switch".
If you can find certain keywords in your switch features list or manual, "port mirroring" is supported.
Example 1: description of cisco 2950.


Example 2: feature list of NETGEAR GS108T.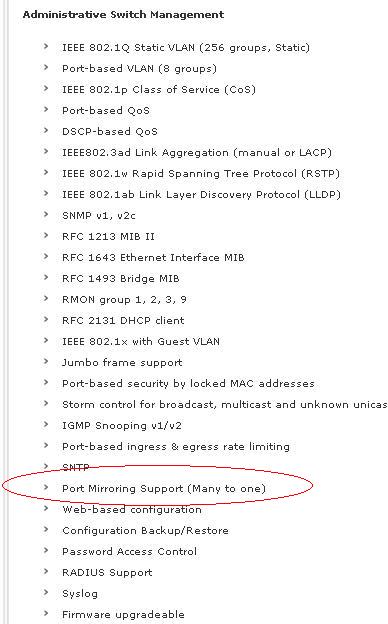 Second, check switch Web UI to find mirroring options.
Most manageable switches provide you a web UI or console interface for you to change it settings. If you can find "port mirroring" or "port monitoring" options in its Web UI, certainly port mirroring is supported.

Example 1: Web UI of dlink 3226.

Example 2: Web UI of netgear GS748AT.
For more information, please check: Why WFilter can only monitor itself? How to monitor other computers in network?