Internet can be a benefit to business when used properly, but internet
is often abused by employees and poses significant liability and
security risks. In today's internet, P2P programs and IPTV applications can easily consume most of your bandwidth.
Therefore, monitoring of internet activity and monitoring of bandwidth usage is important to keep your business efficient.
Below I list several aspects to monitor internet usage on company network.

How to monitor internet usage?
You can not monitor other computers internet usage in a network unless you have access to their network traffic.
There have two ways to see other computers internet traffic:
1. Configure a span port(port mirroring) in your switch.
2. Do monitoring in the gateway or proxy.
If you already setup a computer as the gateway or proxy server, you just need to install internet monitoring software in the server to do monitoring.
Since many networks are using a router as the gateway, using a port mirroring switch is a good choice. Port mirroring allows you to setup a port in the switch to receive packets of other ports. Setting up a mirror port does no change to your network topology, and it will not affect your network speed. A broadcasted hub can also help you to do monitoring, however, broadcasted hubs can only work in 10M bit mode, and it is not so stable. Therefore I recommend you not to use a broadcasted hub to do monitoring.
Read this example for details to setup port mirroring: Deploy internet monitoring using a port mirror switch .
How to monitor internet connections?
Once you've setup the span port, you can easily monitor internet connections using internet monitor software.
Here we take "WFilter Enterprise" as an example:

Monitor all computers internet connections
Use WFilter's "Active Connections" feature, you can have a clear view of all connections in your network.

Monitor a computer's internet connections
Connections of a particular computer, you can kill established connections if you want.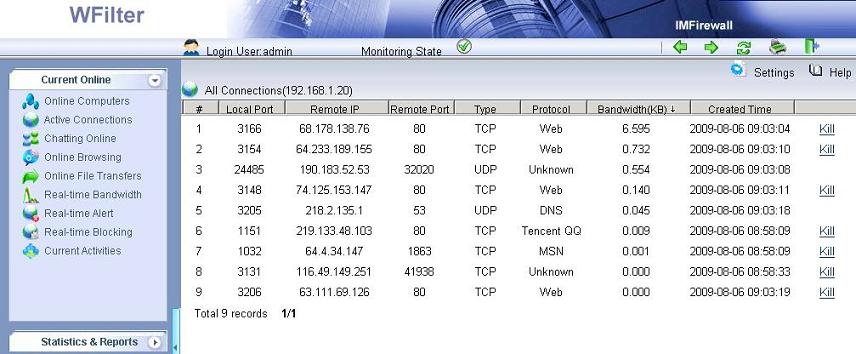 How to monitor internet activity?

In "Online computers", click the numbers under each title to view detailed records.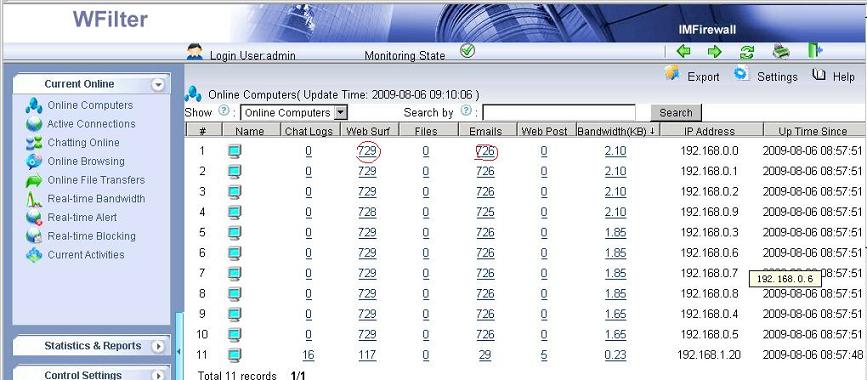 Browsing history: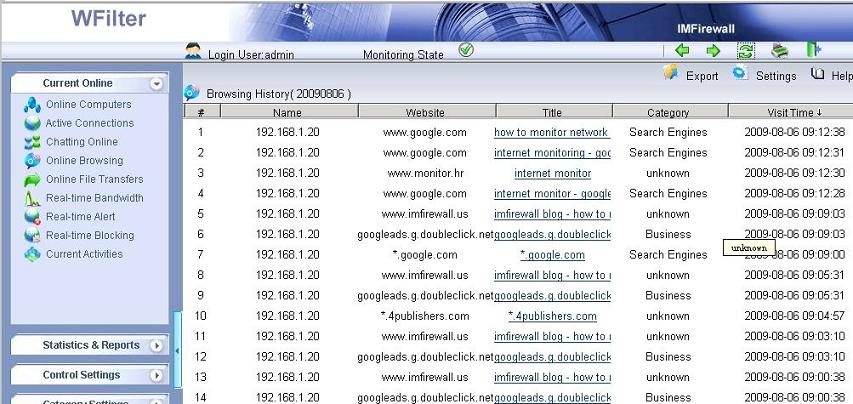 Other related links:
How to monitor internet bandwidth?
Internet blocking